'Horse Around', 'Smoos' & 'Dream Couple' - The outlines
Horse Around
We've watched Ewan and Charlie and all the boys exploring the world on their bikes and getting to bottom of different cultures but where are the girls? Jodie Kidd, a professional polo player and supermodel as well as a Strictly star, will embark on a challenging riding adventure of some 800 miles from Lands End to John O Groats with model and presenter Natasha Charles, Long Way Round-style. We will follow the girls as they plan and undertake each leg of the journey through the entirety of the UK. Both have been riding since childhood,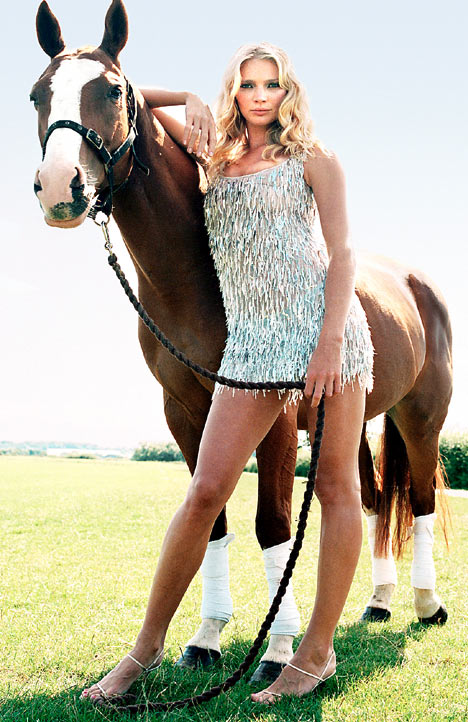 but will they be prepared for this trip of a lifetime? And will two girls on the road meet with different reactions than the boys? They will take the time to soak in the sights
and sounds of England, Wales and Scotland's most stunning and historical locations, seeking to recapture the essence of travelling around Britain in an age before motor travel. In the roaming spirit, they will rely on the hospitality of their fellow Britons for a place to house their horses, not to mention themselves! Will they be fed and sheltered? How many pub lunches can the girls bag for free? As they endure the lack of comfortable facilities, and long riding days through the rain and shine of the UK's changeable weather, how will they cope with leaving their young children at home to pursue a long-held dream? With stunning scenery and the added challenge of taking the trip on horses, we will follow this intrepid journey girl style for a change.
Smoos
The panel will already have read
a year's worth of status updates but here we will see key status updates from the smoos and the panel need to decide what type of people they a
re, their age, sex, possible job type and relationship status. What state of mind are these people in? We want to find out how well we can know someone by simply seeing snippets of their lives over a year. Or maybe it's what they choose not to reveal that tells us something about that person.
Our panellists will let us know all their thoughts and observations about the updates of random people they would otherwise have no idea about. Will our panel's observations be accurate or way off the truth?
Meanwhile, our smoos are in another room watching and listening to our panel's discussions, deliberations and general character assassinations. Our smoos are accompanied by a friendly presenter and, each time our panellists make particularly sensitive, revealing or cutting comments, we will watch our smoos immediate reactions.
After their online lives have been pulled apart, we will invite the smos to come out and stand in front of the panel. Our panellists will have to match the profiles to the people, and discover how close to the truth their analys
is has been. When internet anonymity is replaced with meeting their victims face-to-face, how will the panel and the studio audience feel about their scathing judgements?
We want to really get to know these personalities. What will the smoos feel about being scrutinized so honestly? And what will they learn about themselves in the process?
This is a fun but nevertheless revealing probe into the world of social media.
There will be a book to accompany the series.

FB and twitter feeds taken directly from status updated into a coffee/loo book, with profiles of the extreme characters, and psychological insights into what their feeds reveal from celebrated psychologist Linda Papadopoulos.
It's the kind of book one can open on any page and read a short chapter but access a revealing story or personality quickly.
Papadopoulos will also contribute her views on the journey and life of social media, how it has affected us, and the way it continues to change how we communicate today.
Dream Couple
Hot young couples battle it out for the title of Dream Couple 2013. The prize? Instant celebrity. The twist? They've only just met.
Putting their fate in the hands of the UK's 10 million+ Twitter fanatics, 24 beautiful unknowns (Hollyoaks-type hunks and Hollywood-style hotties) will be matched up and mixed up at the whims of the tweeting audience.
Audiences know that celebrity is manufactured. Now we're giving them power over the process.

Twitter debate rages, but it generally has little effect on the outcome of events - until now.

Couples are made through four initial elimination rounds - each episode, two young guys or girls are matched up with their dream date by the Tweeting audience.

Matchmakers will chat with contestants and air their opinions, but only the Tweeters can decide which girl dates which guy.

The Tweet is all powerful, decreeing not only eliminations but also the challenges contestants must face to prove their worth as the ultimate Celebrity Dream Couple

Some will fall in love - many will pretend to. Will the Twittersphere allow them to ditch the partner they're stuck with for the one they really fancy? Who's fake and who's genuine? What's going on behind the scenes?

New rules can be thrown in at the drop of a tweet - as long as they're trending!

The last couple standing will win a Dream Break, a swish sports car, and will be the face of [company], along with a glamorous celebrity lifestyle of premiers, parties and

Hello-

exclusives.
The Format
Weeks 1-4
The Matchmaking Rounds. Each week, we meet 2 young hopefuls looking for love and fame. They chat with our celebrity host and matchmaking experts, and then they're introduced to a group of potential partners. They meet, chat, and group-date - the contestants and matchmakers do pieces to camera about the matches they think will be wise. (Dave fancies Jenna, but our matchmaker advises he'd be better off with lively Lily). After the main show is over, the debate continues on Twitter.
TwitGirl: Jenna is such a fitty! #Dave4Jenna
TwitGuy: @TwitGirl: So shallow #Dave4Lily love that smile!
In the live results show an hour later, the hash-tagged tweets have been put through the counting software (and continue to roll in on a selective "live" feed). Selected tweets are read out, suspense built, interviews done - and the couples are announced!
After ep.1, clips are integrated into the show following the new couples are getting along as they move into the Dream House, and they attend Dream Couple Results Live.
Weeks 5-12
Our 8 couples are now living together in the Dream House. Some have bonded, some have not - some of the earlier couples are a little hostile to the new arrivals. We see some footage of them living together, and spending time during the day bonding and preparing (an insight into how well-matched they are). While their days will be affected by suggestions of tweeters, these parts will be the most controlled and edited for the narrative element of the show - all the TOWIE/Made in Chelsea/The Hills/The Bachelor storytelling style.
The bulk of the show is taken up with the Dream Couple Challenges (think Jordan and Peter Andre meets
The Apprentice
).
These will have a sense of fun to them - cheap and cheerful studio challenges chosen from Twitter suggestions, like Name Your Celebrity Baby, and Escape the Paparazzi. In a Truth or Dare round, the suggestions from Twitter will help the audience and contestants alike discover more about one another.
During all this, we'll see which coup
les enjoy each other's company, judge which ones are falling in love, and which are more attracted to someone else's partner than their own… At the end of each episode, the couple with fewest #votes will be eliminated - unless Twitter pressure is strong enough to break up two couples, make a better match and eliminate the rejects!
During the days, our celebrity couples live in the Dream House, hanging out with each other, maybe bitching a little, and facing celebrity challenges.They'll go to papped premiers, and be introduced to the life of a celebrity couple. The temptation to fake it will be strong, but the tweeting audience will be scrutinising contestants as closely as any "real" celebrity couple - will they be able to spot true love?
The couples will have to show the audience that they are capable and deserving of being crowned the ultimate celebrity dream couple. They'
ll have their wo
rk cut out to imp
ress the audience if they want t
o win that crown. Are certain cou
ples truly getting on fabulously and forming beautiful relationships, or are they just faking it to grab th
e prized position?
Our tweeters will have plenty to say on the matter.